Alternative Ending is a mini challenge hosted by
The Book Blog Experience
(as part of the
Princess Bookie's Contest Craze
). You have to
write an alternative ending for one of your favorite books
and put the link of your blog post in a comment, and you're entered in the $10 Amazin gift card giveaway! How awesome, isn't it? :)
Head over
here
for the rules and the contest!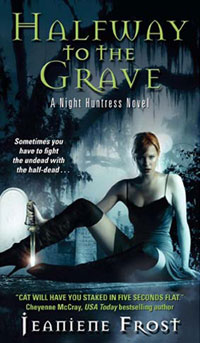 So my all-time favorite book is Halfway to the Grave by Jeaniene Frost, so I chose it, but I have to admin, it was very hard to write an alternative ending for it, because it's my favorite, it's perfect the way it is, and I couldn't think about any ending that would be better than the original one. But finally, I managed to write something, but it's certainly not better than Jeaniene Frost's ending :) So here it is:
And yet when I finally drifted off, in that barely conscious state where logic was absent and dreams encroached, little images of Bones and me were flashing in front of my eyes. In one of these images, he was standing behind me. He was pulling my hair, my head was stretched back, and I could feel his breath on my exposed throat.




"If you run from me, I'll chase you. And I'll find you..." he whispered lightly, then the vampire of my imagination bit into my pale skin...